um·bra

(ŭmbrə)
n.
pl.
um·bras
or
um·brae
(-brē)
1.
A dark area, especially the blackest part of a shadow from which all light is cut off.
2.
Astronomy
a.
The completely dark central portion of the shadow cast by the earth, moon, or other body during an eclipse.
b.
The darkest region of a sunspot.
---
[Latin, shadow.]
---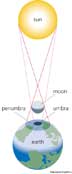 (click for a larger image)
umbra
---
This website is best viewed in Chrome, Firefox, Microsoft Edge, or Safari. Some characters in pronunciations and etymologies cannot be displayed properly in Internet Explorer.