tri·an·gle

(trīăng′gəl)
n.
1.
a.
The plane figure formed by connecting three points not in a straight line by straight line segments; a three-sided polygon.
b.
Something shaped like such a figure:
a triangle of land.
2.
Any of various flat, three-sided drawing and drafting guides, used especially to draw straight lines at specific angles.
3.
Music
A percussion instrument consisting of a piece of metal in the shape of a triangle open at one angle.
4.
A relationship involving three people, especially a ménage à trois.
---
[Middle English, from
Old French, from
Latin
triangulum
, from neuter of
triangulus
, three-angled :
tri-
, tri- +
angulus
, angle.]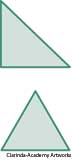 (click for a larger image)
triangle
top: right triangle
bottom: equilateral triangle
---
Indo-European & Semitic Roots Appendices
Thousands of entries in the dictionary include etymologies that trace their origins back to reconstructed proto-languages. You can obtain more information about these forms in our online appendices:

The Indo-European appendix covers nearly half of the Indo-European roots that have left their mark on English words. A more complete treatment of Indo-European roots and the English words derived from them is available in our Dictionary of Indo-European Roots.
This website is best viewed in Chrome, Firefox, Microsoft Edge, or Safari. Some characters in pronunciations and etymologies cannot be displayed properly in Internet Explorer.