sym·me·try

(sĭmĭ-trē)
n.pl.
sym·me·tries
1. The correspondence of the form and arrangement of elements or parts on opposite sides of a dividing line or plane or about a center or an axis:the symmetry of a butterfly's wings.
2. A relationship in which there is correspondence or similarity between entities or parts:the symmetry of the play, which opens and ends with a speech by a female character.
3. Beauty as a result of pleasing proportions or harmonious arrangement:"Here were the ringlets, framing a face of exquisite symmetry"(Clive Barker).
4. Physics Invariance under transformation. For example, a system that is invariant under rotation has rotational symmetry.
---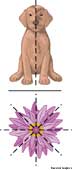 (click for a larger image)
symmetry
top: bilateral symmetry
bottom: radial symmetry
---
This website is best viewed in Chrome, Firefox, Microsoft Edge, or Safari. Some characters in pronunciations and etymologies cannot be displayed properly in Internet Explorer.