spray 1

(sprā)
n.
1.
a.
Water or other liquid moving in a mass of dispersed droplets, as from a wave.
b.
A moving mass of particles or projectiles:
a spray of bullets.
2.
a.
A fine jet of liquid discharged from a pressurized container.
b.
A pressurized container; an atomizer.
c.
Any of numerous commercial products, including paints, cosmetics, and insecticides, that are dispensed from containers in this manner.
v.
sprayed
,
spray·ing
,
sprays
v.tr.
1.
To disperse (a liquid, for example) in a mass or jet of droplets, particles, or small pieces.
2.
To apply a spray to (a surface); hit with a spray.
v.intr.
1.
To discharge sprays of liquid.
2.
To be directed or dispersed in a spray.
3.
Zoology
To urinate on various objects as a way of marking territory.
---
[From
obsolete
spray
, to sprinkle, from
Middle Dutch
sprayen
.]
---
---
spray 2

(sprā)
n.
1. A small branch bearing buds, flowers, or berries.
2. Something, such as a decorative motif, that resembles such a branch.
---
[Middle English, from Old English *spræg.]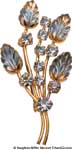 (click for a larger image)
spray2
spray brooch
---
The American Heritage® Dictionary of the English Language, Fifth Edition copyright ©2020 by Houghton Mifflin Harcourt Publishing Company. All rights reserved.
 
Indo-European & Semitic Roots Appendices
Thousands of entries in the dictionary include etymologies that trace their origins back to reconstructed proto-languages. You can obtain more information about these forms in our online appendices:

The Indo-European appendix covers nearly half of the Indo-European roots that have left their mark on English words. A more complete treatment of Indo-European roots and the English words derived from them is available in our Dictionary of Indo-European Roots.
This website is best viewed in Chrome, Firefox, Microsoft Edge, or Safari. Some characters in pronunciations and etymologies cannot be displayed properly in Internet Explorer.