o·lec·ra·non

(ō-lĕkrə-nŏn′)
n.
The large process on the upper end of the ulna that projects behind the elbow joint and forms the point of the elbow.
---
---
o·lecra·nal(-nəl), o′le·crani·al(ō′li-krāne-əl), o′le·crani·an(-ne-ən)adj.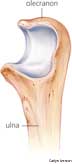 (click for a larger image)
olecranon
---
This website is best viewed in Chrome, Firefox, Microsoft Edge, or Safari. Some characters in pronunciations and etymologies cannot be displayed properly in Internet Explorer.