o·cel·lus

(ō-sĕləs)
n.
pl.
o·cel·li
(ō-sĕlī′)
1.
A simple eye, found in many invertebrates, consisting of a number of sensory cells and often a single lens.
2.
A marking that resembles an eye, as on the tail feathers of a male peacock; an eyespot.
---
---
o·cellar

(ō-sĕlər)

adj.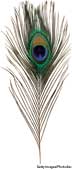 (click for a larger image)
ocellus
peacock feather
---
This website is best viewed in Chrome, Firefox, Microsoft Edge, or Safari. Some characters in pronunciations and etymologies cannot be displayed properly in Internet Explorer.