nave 1

(nāv)
n.
The central part of a church, typically extending from the narthex to the chancel and flanked by aisles.
---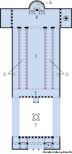 (click for a larger image)
nave1
plan of the 4th-century
AD
St. Peter's Basilica, Rome
Italy
A. apse
B. transept
C. nave
D. aisles
E. narthex
F. atrium
---
---
The American Heritage® Dictionary of the English Language, Fifth Edition copyright ©2022 by HarperCollins Publishers. All rights reserved.
 
Indo-European & Semitic Roots Appendices
Thousands of entries in the dictionary include etymologies that trace their origins back to reconstructed proto-languages. You can obtain more information about these forms in our online appendices:

The Indo-European appendix covers nearly half of the Indo-European roots that have left their mark on English words. A more complete treatment of Indo-European roots and the English words derived from them is available in our Dictionary of Indo-European Roots.