mi·ter

(mītər)
n.
1.
The liturgical headdress and part of the insignia of a Christian bishop. In the Western church it is a tall pointed hat with peaks in front and back, worn at all solemn functions.
2.
a.
A thong for binding the hair, worn by women in ancient Greece.
b.
The ceremonial headdress worn by ancient Jewish high priests.
3.
b.
The edge of a piece of material that has been beveled preparatory to making a miter joint.
v.
mi·tered
,
mi·ter·ing
,
mi·ters
v.tr.
1.
To bestow a miter upon.
2.
a.
To make (two pieces or surfaces) join with a miter joint.
b.
To bevel the edges of for joining with a miter joint.
v.intr.
To meet in a miter joint.
---
[Middle English
mitre
, from
Old French, from
Medieval Latin, from
Latin
mitra
, headdress of the Jewish high priest, from
Greek.]
---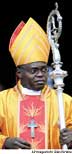 (click for a larger image)
miter
worn by Dr. John Sentamu, Archbishop of York
---
Indo-European & Semitic Roots Appendices
Thousands of entries in the dictionary include etymologies that trace their origins back to reconstructed proto-languages. You can obtain more information about these forms in our online appendices:

The Indo-European appendix covers nearly half of the Indo-European roots that have left their mark on English words. A more complete treatment of Indo-European roots and the English words derived from them is available in our Dictionary of Indo-European Roots.