ko·re

(kôrē, kôrā)
n.
pl.
kor·ai
(kôrī)
A sculpture representing a standing young woman clothed in long robes, especially one produced in Greece before the fifth century
BC
.
---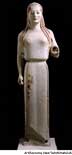 (click for a larger image)
kore
c. 530 bc Greek marble statue
---
This website is best viewed in Chrome, Firefox, Microsoft Edge, or Safari. Some characters in pronunciations and etymologies cannot be displayed properly in Internet Explorer.