conic projection
or
conical projection
n.
A method of projecting maps of parts of the earth's spherical surface on a surrounding cone, which is then flattened to a plane surface having concentric circles as parallels of latitude and radiating lines from the apex as meridians.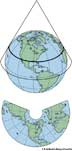 (click for a larger image)
conic projection
---
Indo-European & Semitic Roots Appendices
Thousands of entries in the dictionary include etymologies that trace their origins back to reconstructed proto-languages. You can obtain more information about these forms in our online appendices:

The Indo-European appendix covers nearly half of the Indo-European roots that have left their mark on English words. A more complete treatment of Indo-European roots and the English words derived from them is available in our Dictionary of Indo-European Roots.