ba·sil·i·ca

(bə-sili-kə)
n.
1.
a. A public building of ancient Rome having a central nave with an apse at one or both ends and two side aisles formed by rows of columns, which was used as a courtroom or assembly hall.
b. A Christian church building of a similar design, having a nave with a semicircular apse, two or four side aisles, a narthex, and a clerestory.
2. Roman Catholic Church A church that has been accorded certain privileges by the pope.
---
[Latin, fromGreekbasilike, from feminine ofbasilikos, royal, frombasileus, king.]
---
ba·sili·can(-kən)adj.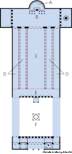 (click for a larger image)
basilica
plan of the 4th-century ad
St. Peter's Basilica, Rome, Italy
A. apse
B. transept
C. nave
D. aisles
E. narthex
F. atrium
---
Indo-European & Semitic Roots Appendices
Thousands of entries in the dictionary include etymologies that trace their origins back to reconstructed proto-languages. You can obtain more information about these forms in our online appendices:

The Indo-European appendix covers nearly half of the Indo-European roots that have left their mark on English words. A more complete treatment of Indo-European roots and the English words derived from them is available in our Dictionary of Indo-European Roots.
This website is best viewed in Chrome, Firefox, Microsoft Edge, or Safari. Some characters in pronunciations and etymologies cannot be displayed properly in Internet Explorer.